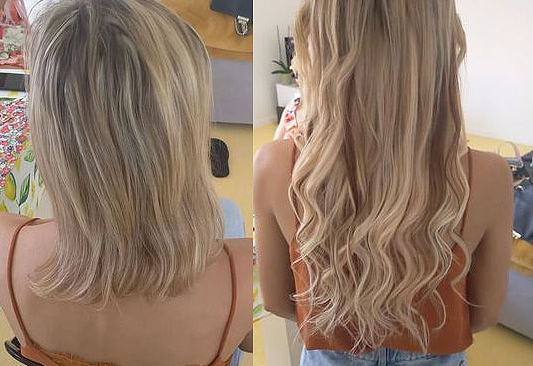 The different types of human hair extensions
Pre bonded hair extension

This pre bonded hair extension offers many styling possibilities. Check before each application of pre bonded hair extensions if your hair measures at least five centimetres at the nape of the neck and twelve centimetres at the crown of the head. Why? The measurements of these lengths guarantee invisible glue points. Remember those hair extensions are usually applied five millimetres from your scalp, on clean, dry hair.
Micro loop hair extensions
Micro loop hair extensions are attached to your hair with rings or a small lasso and a siliconized metal ring. A strand of hair is threaded through the ring with the help of a hook and the cold ring is pressed close to the scalp with a clip.
There are several types of rings: the simple ones for micro ring extensions, the silicone-lined ones for micro loop extensions. The latter are designed to extend the life of your human hair extensions and provide support and beauty to your hair extensions. They prevent the strands from slipping and break easily when you want to remove the micro loop hair extension.
Micro loop extensions have a pre-installed ring and loop. Simply insert a strand of hair into the loop and then pull the metal tip through the pre-installed ring. All you have to do is press the connector with a flat clip and repeat the process as many times as necessary.
Clip-in hair extension
This type of hair extension allows you to change your hairstyle regularly and to indulge in a variety of hairstyle fantasies according to trends. The natural clip-in hair extension can be installed and removed in a few minutes thanks to its clip-in system, you can do it at home and alone without help!